Dubai is a wonderland, a city that has broken so many world records with its innovation and creativity. There is so much to see and things to do in Dubai with kids that the city is known to have a million footfalls every year. Be it a romantic honeymoon, a family holiday or a solo vacation, Dubai has something for everyone. Moreover, the city also caters to the little ones of a family. Right from interactive museums to thrilling amusement parks, numerous things in Dubai would keep kids engaged and entertained.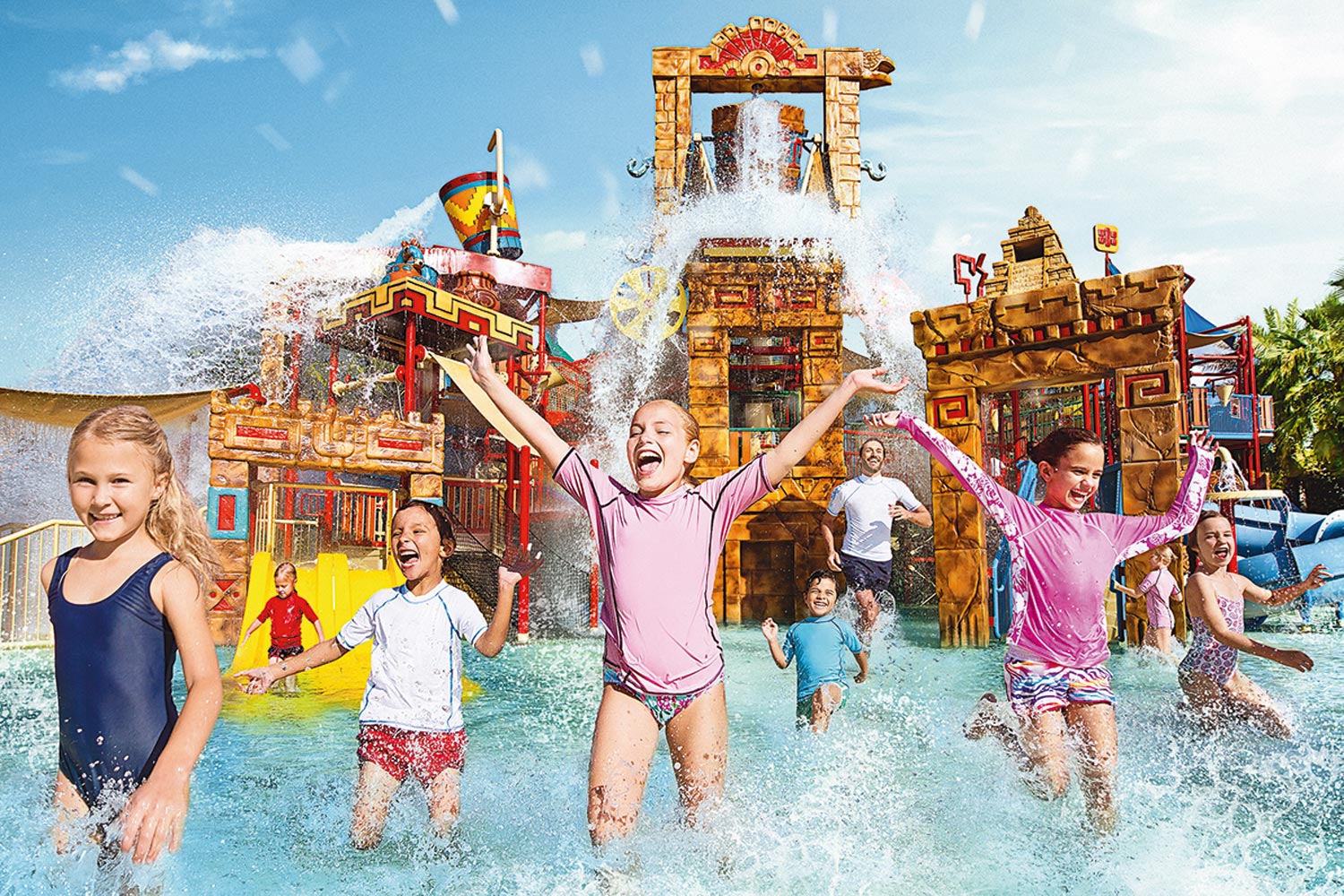 Visit Dubai Aquarium & Underwater Zoo
Home to more than 33,000 marine animals, the Dubai Aquarium & Underwater Zoo is one of the best things to do in Dubai with the kids. One of the unique things about the place is that it is located inside the Dubai Mall. The large acrylic fish tank has varieties of marine animals, including sharks, stingrays, manta rays, etc. Moreover, the underwater zoo houses otters, penguins, varieties of snakes, etc. The aquarium offers different experiences like glass-bottom boat tours, cage diving, shark feeding, etc. too.
Enjoy a Day at the Beach
Most kids love to play in the water and with sand, making an outing to the beach a great idea. Dubai has numerous beaches, some public and some private. If you are looking for a beach for a family holiday in Dubai, Kite Beach, JBR Beach, Jumeirah Beach, La Mer Beach, etc. are all good options. Apart from the chance to lounge in the sand, these beaches offer amazing water sports too. Some of the beaches also have a play area and water parks dedicated to children.
Have Fun at Legoland Dubai and Legoland Water Park
There is no dearth of theme parks and water parks in Dubai. However, most of them cater to adults and older children. If you have children between the ages of 2 and 12 years, Legoland is the perfect place to visit. Legoland Dubai and Legoland Water Park, although located next to each other, are two separate parks that are a part of Dubai Parks & Resorts. All the zones, rides, slides and attractions of the theme park and water park are based on LEGO building blocks. It is completely safe and absolute fun for the little ones.
Learn at KidZania Dubai
Pretend play is something that all kids love, and KidZania Dubai offers exactly this. Located inside the Dubai Mall, KidZania Dubai is an indoor learning activity centre. Here kids can choose a profession and earn some money. Kids can become doctors, nurses, shopkeepers, firefighters, plumbers, etc. and get firsthand experience of the real world. The best part is that parents can enjoy a cup of coffee in the lounge while the children have the time of their lives.
Try Ice Skating at Dubai Ice Rink
One of the most fascinating things to see in Dubai is the Dubai Ice Rink. Right inside the Dubai Mall is the enormous, Olympic-sized ice rink, which is open to both beginners and experts. Open throughout the year, the Dubai Ice Rink is a great place to practice some of your ice-skating moves. Moreover, you and your kids can also be a part of disco sessions and dance parties here. If interested, you can also book an ice skating course here.
Keep Bouncing at Bounce Dubai
Children are little balls of energy who love to be on their toes already. If you are a parent who is constantly on the lookout for activities at par with your kid's energies, Bounce Dubai would be a good option for you. Bounce Dubai is an indoor trampoline park with more than 100 interconnected trampolines. In short, it is the best place where kids can jump around fearlessly, while parents relax with a cup of coffee or cold drink.
Invoke Creativity at OliOli Dubai
While children love physical play, their young brains also crave challenges. Oli Oli Dubai is a place that tests their brains and creativity as well. An immersive museum, OliOli offers experiential play through eight galleries, which include Air, Water, Future Park, Creative Lab, Cars & Ramps, Fort Building, Toshi's Net, etc. OliOli offers more than 40 interactive activities created and designed by educators, psychologists, fabricators and artists. In short, the best place to learn and have fun at the same time.
Meet the Dolphins at Dolphin Bay
Kids need to understand the importance of other living beings, and Dolphin Bay is the best place to introduce them to warm and fuzzy dolphins. Located inside the premises of Hotel Atlantis the Palm, the Dolphin Bay gives you the chance not just to see dolphins but also to interact with them. During your session, you would get to swim, touch and hug the dolphins. It would be a fun and memorable experience for both kids and adults.
Learn about History at Dubai Museum
Parents need to introduce new places and cultures to their kids while visiting new cities and countries. Hence, a visit to Dubai is one of the most important things to do with kids in Dubai. Kids would get to learn about the history of the city and the cultural heritage of the place. They would be fascinated to know about the lifestyle of the locals just a few decades ago. Moreover, the museum also gives a glimpse of the transformation of the city from desert land to a metropolitan city through an audio-visual presentation.
Dubai does not disappoint anyone, especially the little ones, making it the perfect place to go on a holiday with family. So, book your tickets to Dubai for your next holiday and gift your children an amazing holiday.