Here is a glimpse of some of the most beautiful places in India to visit with your friends to experience fun and adventure.
# 1.Rishikesh
The place is located 25km away from Haridwar us very beautiful and adventurous place to visit with friends. The place is also known as 'yoga capital of India'. It is also considered as a holy place in Hindi religion due to Ganga river and Ram jhula and Laxman jhula. You cannot take non-veg food items or alcohol at this place. It is strictly prohibited. You can visit many religious temples and heritage places here with your friends. Rishikesh is considered as the starting point of Chota char Dham yatra. You can do numerous fun and exciting activities in Rishikesh with your friends. It is most famous for river rafting as it can be done any time in Rishikesh except in monsoon. You can experience it in 400-1400 rs from Kautilya to Laxman jhula. Bunjee jumping us another most famous activity performed here. You can also do camping and bonfire along river Ganga and to experience it in a good way from February to May and September to November time is best. You can also get the experience of a hot air balloon and do a very large no of activities including waterfall tracking, rock climbing, giant swing, yoga and meditation, flying fox and trekking is also done. It is one among the places to hang out with friends. You can easily go by cars, buses, flights, railway's and if you more thrilling experience you can go on bikes. It is one of the best places in India to visit with your friends.
# 2.Goa
Goa is considered one of the best place that everyone wanted to visit with their friends. Good trip with friends is considered one of the best trips with friends. Not only Indians beauty of Goa attract foreigners also. Every year many foreigners visit Goa. There are unlimited fun activities to do in Goa. It is most famous for water sports like scuba diving in which you experience the underwater world, flyboarding in goa with friends is just amazing. Parasailing is one of the most adventurous activities that you can experience. You just talk with clouds and experience the ultimate joy of parasailing. Ringo riding and water skiing are also among the best activities performed in Goa where you are allowed to sit on a vertical tube and experience the slide in water and in water skiing you can experience the joy of skiing. The banana ride is the funniest and joyful ride to do with friends in which they throw yours in the water. Water rafting is also done. You can also visit other places like Chapora fort,corjeum fort, Mapusa market, Baga beach, Colva beach, the church of st.francis of Assisi, cotija wildlife sanctuary, Panaji and uncountable places with your friends. You must plan a trip to Goa with your friends as it is considered as one of the best places to visit. You can go there by trains and flights. The road trip of Mumbai to Goa was just wow.
# 3.Manali
Manali is just 550 km away from Delhi and can be easily reached by cars and buses. It is considered one of the good places to visit in Himalaya with your friends. The climate is cosy and cold and reminds cold in summer too. The region experience rainfall frequently. Solang valley is one of the most visited places and is one of the best to visit with friends. There are many fun activities to do in Solang valley. You can do paragliding from the highest mountain range and there is snow all around. Many other activities like yak riding and more things can give you amazing experience go witness with your friends. If you go Manali you must visit Hadimba temple that is the built-in cave and is a good place for photoshoots wearing the traditional dress of Himachal. You can also take photos with rabbits and do yak riding. The temple is surrounded by pine trees. You can also visit Rohtang pass and do river rafting. Manikaran Gurudwara is also must visit place when you visit Manali as in this place the water is automatically hot and you can take hot water bath and when you get prasad of rice and mishri the rice is boiled in the hot water that flows there. Mall road is the best place for shopping and tasting a variety of food items. Many other places are there you can visit with your friends. You must visit Goa with your friends to experience the beauty of the mountains and Male memories with friends.It is one of the best places in India to visit with your friends.
# 4.Jim Corbett National Park.
This national park is one of the oldest parks and is established in 1936. The park is most famous for 488 different species of flora. It is one of the best places in India to visit with your friends.
It is found that there are more than 586 species of birds and animals including 33 species of endangered reptiles and 7 species of fish along with 36 species of dragonflies. You can see Bengal tigers very rarely due to the abundance of hunting. The tigers kill bigger buffaloes and elephants for food. You can see Leopards in hilly areas and small cars including jungle cats fishing cats and leopard cats. Other animals you can see are human black beers, sloth, langur, sambar deer, barking deer, Indian elephants in the summer season are seen frequently. Crocodile and gharials are seen on the riverside. You can do a morning tour on elephants. Jeep safari is the most famous activity to witness and explore the park. You can also visit Corbett falls and museum. It is one of the beautiful things to explore with your friends. You can go there by airways, railways and by road trip also. It is among to best places to visit with friends to do all the thrilling activities and fun activities in the Jim Corbett.
You should definitely visit this place with your friends for experiencing thrill and adventure.
# 5.Leh Ladakh
Leh is the capital of Ladakh. It is one of the most dangerous sites to visit ever. Leh Ladakh road trip was one of the trips one should experience in life with friends. Many people instead of going by Airways or railways prefer to go by road. You can visit Leh palace, Shanti Stupa, Jama masjid, Chamba temple, war museum, forward fort,datun sahib and many more places to visit with friends. You can Yak cheese momos that one should try after visiting. You can visit the hall of fame to pay tribute to soldiers. Hemis national park is the most amazing place you can visit with your friends to see leopards. You can try camel safari on double-humped camels along riverbanks of shyok and Nubra river. Tracking and mountaineering are also one of the activity you can do with your friends that give you ultimate joy and fun. You can also visit and walk through frozen river known as chadar trek. You can try Tibetian food with Korean and Chinese food. When you visit you must try thukpa, sky, chang that is locally available. You can visit panikhar and parachik on moving to Drand Drung glaciers for the best experience of mountains. Main Bazar is the wonderful shooping place of Leh Ladakh where you can get traditional jewellery and apparels. You should experience the fun and exciting trip to Leh Ladakh with your friends. It is one of the best places in India to visit with your friends.
# 6.Mussoorie
Mussoorie is a hill station in Dehradun District of Uttarakhand India, also famous as the queen of hills. It is 290 km from the national capital of New Delhi. The hill station is in the foothills of the Garhwal Himalayan range. The adjoining town of Landour, which includes a military cantonment, is considered part of 'greater Mussoorie', as are the townships of Barlowganj and Jharipani.
The Gorkhas under Umer Singh Thapa conquered the Garhwal and the Dehra, whereby Mussoorie was established in 1803. Dehradun and Mussoorie were evacuated by the Gorkhas by the year 1815 and were annexed to the district of Saharanpur by 1819.
There are several places to see:-
1-The Kempty Falls, 12 m. high and 1,400 m. above sea level, is 15 km from Mussoorie, accessed by a track from Kempty Fall Road.
2-Jharipani Fall is on the Mussoorie-Jharipani road, 8.5 km from Mussoorie.
3-At Park Estate are the remains of the building and laboratory of Sir George Everest. It is about 6 km away from Gandhi Chowk and you can have a scenic walk from Library Bazaar, although it is accessible by road transport to at least to Haathi Paon.
Many other places can be seen in Mussoorie like as Lake mist, municipal garden, Bhatta falls, Mussoorie Lake, Nag devata temple, mall road and all tibba etc. It is the best place in India to visit with friends.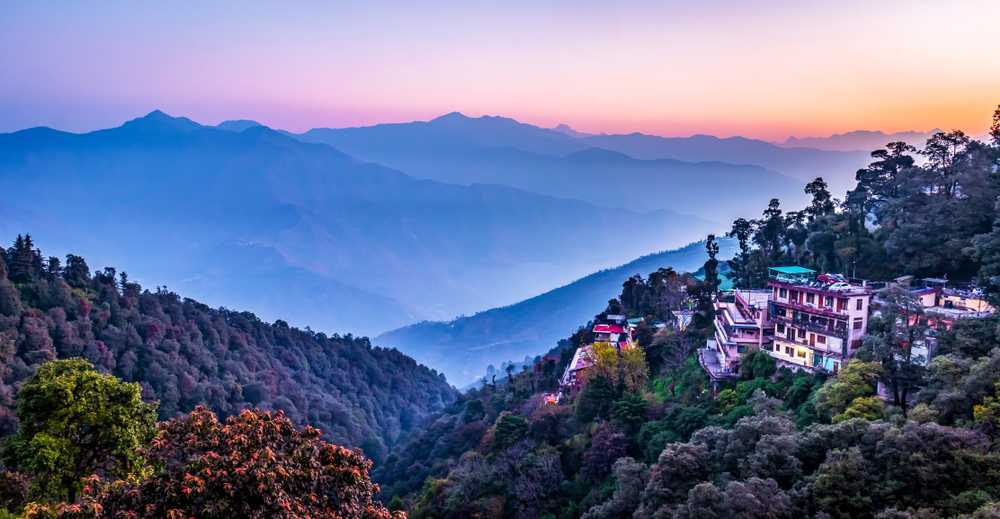 Also visit