For many years the Chadar river trek has attracted adventurers from all over the world. It is one of the most thrilling treks where one walks on the frozen Zanskar River in the Zanskar region of Ladakh in north India. Due to the harsh winters in the region, where temperatures plummet to below -20 degrees centigrade, Zanskar remains cut off from the rest of the country for almost 6 months starting November. To follow in the footsteps of the indigenous community, trekking on the 'Chadar' of ice is an adventure unlike any other! Chadar, in Hindi (the local language in India), means a 'cover' – denoting the cover of ice on the Zanskar River in the winters.
The Chadar winter Trek is commercially viable only during January and February every year. The original Chadar Trek route started from Sangam in the Ladakh region to Padum in the Zanskar region, over the years roads have been built, the distance of Chadar has now been reduced. It covers a distance of ~65 miles or 105km on foot, with around 8-12 km of walking each day.
The temperatures are usually 15 to 20 degrees during the daytime and plummet to -25 to -35 degrees during the night in this region. What makes this frozen river expedition so unique is that you are going to be walking on a blanket of ice frozen on a river. You will most likely share the incredibly scenic route with wildlife and seeing pugmarks on the trail is a common sight. You may also have to cross/climb frozen waterfalls and stay the night in caves. The Chadar Trek on the frozen Zanskar River is an experience of a lifetime and is a must-do not just for trekking enthusiasts but general adventure lovers across the globe!
FREQUENTLY ASKED QUESTIONS
Where is the Chadar trek done? How do I reach there?
The Chadar Trek is a winter trail undertaken on the frozen river in the Zanskar region of Ladakh, in the Indian state of Jammu and Kashmir.
You need to fly into Leh, Ladakh for the Chadar trek. There is no other option as roads are closed. Your guide will usually meet you here or you can decide to meet them at your chosen accommodation in Leh.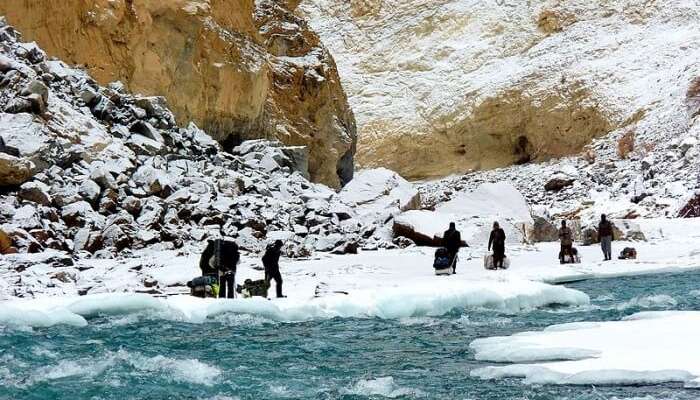 When is the best time for the Chadar Trek?
The trek on the frozen Zanskar River only happens winter – January to February. Since the only way to access the trekking trail is by walking on this ice sheet, the trek is possible from roughly 5th January to 20th February every year.
How difficult is the Chadar Trek?
The main challenge during the Chadar trek is the unsettling temperature and the harsh camping conditions (around -10 degrees Celsius/14 degrees Fahrenheit during the day to -30 degrees Celsius/-22 degrees Fahrenheit in the night). There is hardly any gain in altitude. You would always be between 3400m to 3700m. Thus apart from the extreme cold and walking on icy terrain, Chadar is not a difficult trek.
Once acclimatized (as you should, especially because you'll be flying into Leh, which is at 3500m above sea level), you should not have any high altitude sickness problems on this trek. Also, you do not have to be super fit to do this trek. But you do have to be careful about your gear to deal with the extreme cold temperatures. Reasonable fitness levels and adequate gear will ensure you have a terrific time on the Chadar trek.
What should I know about acclimatising before the Chadar Trek?
Since Ladakh is at an altitude of 3500m, it poses the risk of acute mountain sickness. People acclimatise at different rates but you should spend 2-3 days before your trek. Resting and staying hydrated bits of help. Try to drink at least 3-4 litres of water per day. Avoid tobacco, alcohol and other drugs including sleeping pills. Eat more carbohydrate-rich food than just fatty food. Diamox is a drug known to help with altitude sickness but please consult your doctor before using it.
What kind of gear do I require for the Chadar Trek?
1. Footwear – Water-resistant, broken-in trekking shoes (Hiking boots) are important as one needs to walk on ice. At times when Chadar does not freeze very well, you will need to use gumboots (usually only when one needs to wade through water in which case the normal boots do not help). Gum Boots are easily available online or can be rented/bought for cheap in Leh (Less than $10).
2. Sleeping bags – You need sleeping bags that can withstand the extreme temperatures and can keep you warm in the bitter cold (Double layered – Down Inner and a Hollofil Outer). The nighttime temperatures can fall below -30 degrees Celsius! Most operators rent out these sleeping bags and you can also purchase your own.
3. Clothes – You dress in layers and wear as much waterproof clothing as possible. Wet clothes in sub-zero temperatures can be fatal. Thermal inners are great to have and you need to carry both Fleece and Down jackets. It is also advised to carry a waterproof windcheater. Woollen caps and gloves help if you tend to get cold quicker.
These are just the essentials. You will get a detailed list of gear required once you book your trip.
What are the accommodation and meal arrangements?
In Leh, you will stay in either the few hotels that are open in the winters or homestays/guesthouses. However, do note that running water is a luxury in these extreme conditions. During the trek, you will stay in tents in campsites set up in caves around the area. It is very important to be adequately kitted up to bear the cold at night.
Meals served during the frozen Zanskar expedition is decided and cooked carefully. It is generally prepared fresh and hot right mid-way through the trek. This works better than serving packed food. Operators take care of the dietary needs of the participants during the trek.
For drinking, water is usually boiled every morning and distributed among the trekkers. It needs to be kept adequately warm to prevent it from freezing. You can carry it in a thermos or bottle sleeves.
How do I travel around Leh?
You can rent a taxi or use the infrequent public transport. Due to rugged and treacherous roads, the cost of taxis can be higher than in other parts of India. Alternatively, you can also rent bikes.
The operators cater to any customization that is required, including arranging for transportation outside of the usual trip. They charge an extra amount for this.
Are permits required to do the Chadar Trek?
In Ladakh, special permits are only required for restricted areas like the Nubra Valley, areas that are close to the international borders and for summiting certain peaks. So no permits are required for the Chadar Trek.